NFT Soccer Games (NFSG) is a play-to-earn game where users can build their own soccer team and lead them to become world champions.
By being the manager of your team, you can perform actions such as training your players, playing friendly matches and competing in tournaments against other users' teams. All these events allow you to earn rewards in the platform's native token!
Of course, the strategy and the characteristics of each player in your team are extremely important in defining who will be victorious in the match. Each player has unique skills that you can develop through training.
Don't wait any longer and become the next best coach in the world!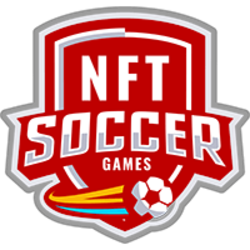 NFT SOCCER GAMES
(NFSG)
0.170 USD$
24h Range
0.462 USD$
LAST NFT Soccer Games (NFSG) NEWS
---
No related news for NFT Soccer Games (NFSG)