My DeFi Pet (DPET) is a play to earn style virtual pet breeding game. In this game, users can collect, breed and evolve their pets.
Each of these virtual pets is, in turn, a non fungible token (NFT) so players have real ownership of them. In addition, they can exchange or trade them with other users on the platform's official Marketplace.
My DeFi Pet has an adventure style which is set in an enchanted land with magical creatures and items.
The game token, DPET, has a maximum supply of 100 million units.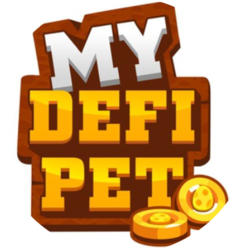 MY DEFI PET
(DPET)
0.049 USD$
24h Range
0.130 USD$
My DeFi Pet (DPET) REVIEW
---
My DeFi Pet is a blockchain game that combines many of the interesting concepts of play to earn games for attracting players. As the name implies, it offers a combination of pet growing with DeFi services. Besides, the game's whitepaper focuses a lot on privacy and personal experience. The game's slogan says: "Lifestyle-based Pet Game On Blockchain."
Blockchain games that focus on breeding pets have often been successful in attracting players and growing the community. People love pets even in digital forms, and having the chance to make money from breeding them, adds to their interest in these kinds of games. My DeFi Pet knows this fact well and offers many opportunities to enjoy the game world and earn cryptocurrencies from it.
What is My DeFi Pet?
My DeFi Pet is a blockchain game with numerous offerings, especially in the form of DeFi services. It's the result of a team plan for blockchain mass adoption with the help of gaming experiences. Combining the pet theme with DeFi services and personal experiences can help this game become successful in attracting users and expanding the community.
The core concepts of this blockchain game revolve around interesting and famous gaming does. Collecting, breeding, evolving, battling with, and trading pets are some of the opportunities in the gameplay. They provide a comprehensive experience for players and encourage them to play more. There are seasons the fundamental design of My DeFi Pet that are designed to break down the game progress and offer short-term rewards to players.
Where should I invest in playing My DeFi Pet?
The game is available for players on Binance Smart Chain and KardiaChain. Playing it using BSC is easier because of the bigger support for this blockchain. You should have some BNB tokens in your wallet to start playing.
The process is simple. You buy some BNB tokens and send them to a supported wallet – MetaMask, for example. Then go to the official website of the game and click on "Play Now." The website asks for a connection to MetaMask. Then you should pay some BNB to buy the native token of the game, DPET.
DPET Token
DPET is the native token of the My DeFi Pet game with numerous use-cases and opportunities. It's supported on BSC and KardiaChain, but most of the players prefer BSC for buying and trading it.
Token Economics
The main economic design for this token is to provide financial incentives for players. They will be encouraged to hold and use the DPET token for governing the ecosystem. It's a tool for keeping players engaged and rewarding them for their contributions. A share of circulating tokens will be rewarded for bigger contributors to the game.
In-Game
DPET tokens are designed to incentivize interactions between players and the game. Tokens will be rewarded randomly for any actions in the game. It means players will be interested in playing more and spending their time or tokens in the hope of receiving more rewards.
Players can spend their DPET tokens to purchase in-game assets. Besides, breeding and evolving pets in the game need DPET tokens. In a nutshell, this token is the in-game currency of My DeFi Pet.
Governance
DPET tokens can be used for making the game development and governance completely decentralized. Token holders have the right to vote for/against proposals in the game design and other decisions. They can also send some tokens to propose changes in the game. Voters also receive special rewards for their contributions. You should lock your DPET tokens for a certain time to receive voting power.
Staking
Staking is another means to encourage players to hold their tokens more. You can stake DPET tokens in the game pools and receive rewards for that. The rewards or yields are different based on the pool you choose. It can be in-game assets like items, new eggs, or DPET tokens.
Play 2 Earn
As mentioned above, DPET is designed to encourage more time to play in the My DeFi Pet game. When you spend time in the game and experience its world, your chance of receiving DPET rewards increases. There are various missions and social mining opportunities in the game that result in DPET earnings.
Is it profitable to play My DeFi Pet?
There are many ways to earn from playing My DeFi Pet. The game can be profitable for those who spend a considerable time and have strategies for collecting, breeding, evolving, and trading pets. You can fight in battles and earn DPET tokens that can be traded with other cryptocurrencies in supported exchanges.
Another form of profit in the game is auctioning the monsters you have collected and grown. Some other players are looking for strong monsters or can be collectors who love to pay for your grown per. Seasonal rewards from developers are other forms of profit in this game.
My DeFi Pet Staking
The staking mode in the game is announced with the name "Hunting." It offers some gaming methods to earn more digital assets or DPET tokens. You can send your pets in this mode to hunt and collect Food or DPET tokens. Hunting pets won't be available for other actions for 30 days (it's a kind of locking digital assets for staking). This mode has all the familiar concepts of staking like APR.
You can harvest the hunted DPET in the hunting tab anytime you want. But it's better to harvest it at the end of staking to pay fewer fees. Each pet can only go hunting once in their lifetime and will rest on the farm forever since their hunting. Another rule of the game is that only ten pets can be sent to hunt in this mode.
Conclusion
My DeFi Pet offers a combination of familiar and interesting concepts of blockchain gaming. It has the pet breeding theme with DeFi incentives that can attract users and expand the ecosystem fast. The game offers various economic incentives and can be a good source of income for those who like to play and earn cryptocurrencies.
LAST My DeFi Pet (DPET) NEWS
---
No related news for My DeFi Pet (DPET)