Chain of Legends (CLEG) is a play-to-earn turn-based fighting game, where strategy is a fundamental skill in order to win your battles.
The game is managed under a system of adventure or PvP battles, where you can obtain huge rewards when you are victorious, however, you can also lose them if you are defeated. Like any war game, you must join forces with other users creating guilds and communities, in order to be invincible across the continent.
Not everything is about war in Chain of Legends, for those players who are less risky there is a mining section, where users can obtain resources in the safest possible way.
So don't wait any longer, and join the battle!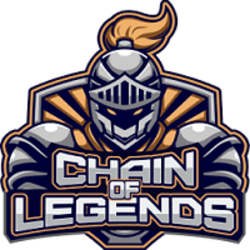 CHAIN OF LEGENDS
(CLEG)
0.0028 USD$
24h Range
0.0100 USD$
LAST CHAIN OF LEGENDS (CLEG) NEWS
---
No related news for CHAIN OF LEGENDS (CLEG)