Illuvium is an open-world blockchain RPG game that, despite being in development stages, is generating a lot of hype in the community.
Illuvium has gameplay similar to traditional Pokémon games. The player will be able to go through a virtual environment capturing and training different monsters, known as Illuvials. With them, the user will have to form a team with which he will compete against other players in PvP mode.
This blockchain game has 2 currencies. The first one is ILV, the governance token of the project, with which you will have participation in the decisions and you will be able to stake. On the other hand, the sILV token will be obtained as a reward from the game and can be used for in-game purchases.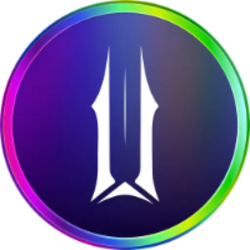 ILLUVIUM
(ILV)
40.48 USD$
24h Range
78.62 USD$
Illiuvium is an RPG game on the Ethereum blockchain with numerous gameplay methods that let players earn cryptocurrencies. It has an open world with various quests and missions for players to hunt and capture creatures while discovering the world. This blockchain game is categorized as a play-to-earn game with various financial incentives for players to be active.
The team behind this game has been successful in partnering with big names in the blockchain industry. Entities like Bitcoin.com, Immutable, Chainlink, and Stake DAO have entered a partnership with Illuvium to support its development and expansion plans.
Because of the fantasy theme and numerous collectible opportunities, his game can become a hit among various play-to-earn games.
What is Illuvium?
Illuvium is a blockchain-based game that leverages the Ethereum blockchain as its fundamental network. It has an RPG theme that lets players have their preferred roles in the game. These kinds of games often offer open-world experiences with numerous opportunities to fight, discover, collect, and do many more things.
Blockchain games often rely on NFT concepts for incentivizing players. Illuvium is no exception. The game has an auto-battler theme that lets players choose their warriors and let them battle automatically.
Illuvials are the creatures in this game that players must interact with them. Mining, harvesting, capturing, and fighting Illuvials are some of the actions you can have in the game. Players assemble their teams with various characters and start to battle opponents in an automatic mode.
Each Illuvial in this game has unique stats, classes, and affinities. This design makes them unique and attractive to collect and win more. Players should deploy various strategies in assembling their teams to have the best combination of stats and compete with other players.
RPG Adventure
As mentioned above, Illuvium is an RPG (Role Playing Game) game that sets the fundamental design concept of the game. In these kinds of games, every player can design and find their path while changing and improving the stats of their characters.
Players compete and explore an alien world in this game that is populated by more than 100 Illuvians. Each of them has unique characteristics that can be upgraded by the player.
Discovery is a fantastic mission in RPG adventure games. In Illuvium, you can discover the planet next to fighting with other players. It means the game has numerous opportunities to entertain and enjoy the environment.
Mining and Harvesting
One of the most exciting actions in Illuvium alien planet is mining minerals from the planet's surface. Players can gather materials and forge them into useful items. There are many opportunities in the land. You can find ore, uncured shards, and rare gemstones on this planet and trade them or forge them.
Each player has a drone to discover the planet. After gathering the materials, you can use the drone to forge weapons, shields, or other useful items for battle and discovery.
Some of the materials are very rare and act as bonus discoveries for gamers. Besides, there are many trees on the planet with fruits that give energy to Illuvials.
IlluviDex
The Illuvium team has designed an exchange platform for trading Illuvials and materials. This exchange is very useful for buying and selling collectibles. Governed by Illuvium DAO, IlluviDEX is an online marketplace for platers. They can buy and sell NFT items in this exchange. In simple terms, the final gate for earning from playing the game is here. Minerals, weapons, shards, armors, and imbues are some of the items that can be traded on this exchange next to the Illuvian characters.
DAO Governance
Illuvium is designed to be a collectible NFT game that is open, transparent, and governed by the community. The governance of the game and all of its operations are done by ILV token holders. There is an Illuvinati Council in the governance mechanism that is responsible for executing voted proposals and maintaining the protocol.
The members of the Illuvinati council are elected by ILV holders. They nominate individuals to be members of this council and can delegate their vote to their nominees, too.
Five individuals will be elected to govern the platform in a 72-hour election. You can read more about the details of this DAO mechanism here.
ILV – The Illuvium Token
ILV is the native token of the Illuvium game. It's an ERC-20 token on Ethereum with three main functions in the game: Governance, Liquidity Mining, and Vault Distribution.
You read about the governance use-case of ILV token above. In simple terms. Holding ILV comes with the voting power for maintaining and improving the game.
Players can also stake ILV and earn more ILV tokens or sILV tokens. According to the official website, sILV token is used for purchase inside the game. For example, you can spend sILV and purchase travel energy and shard curing. The value of sILV is pegged to the ILV token. An important fact is that sILV can't be used in player-to-player transactions like buying or selling NFTs.
Vault distribution is the other benefit of the Illuvium game for ILV stakers. They receive a share of game income in ILV tokens. Every purchase and fee paid in the game will be distributed in ILV tokens between stakers.
Where can I buy ILV?
ILV is an ERC-20 token and is available in DEXs running on the Ethereum blockchain. SushiSwap is the suggested DEX by the official website for purchasing ILV tokens. You can also buy this token on other exchanges like Binance, KuCoin, 1inch, OKEx, and CoinSpot.
We can expect more exchanges to support this token when the game launches officially and more gamers are attracted to it.
What wallet do I need to play Illuvium?
The main cryptocurrency for playing the Illuvium game is ETH. So, the players need Ethereum-compatible wallets to play the game and pay for collectibles, etc. As the game is initially only available for desktop play, wallets like MetaMask may be suitable for playing the game and holding ILV or sILV tokens.
About Immutable X
Illuvium game is integrated with Immutable X and can offer zero gas fee transactions for p2p transactions in the game, like buying and selling NFTs.
Immutable X is a layer two solution specially designed for trading NFTs on Ethereum. Many blockchain games integrate their service; Gods Unchained is one of the most famous ones next to Illuvium.
This layer offers instant payments for transactions and has many scalability benefits for games or other dApps.
Conclusion
Illuvium combines the benefits and attractiveness of RPG games with blockchain play to earn concepts. Professional gamers who love RPG concepts can enjoy this game while earning cryptocurrency for their time and skills.
Mining and harvesting opportunities are great for those who love to discover game worlds. Besides, the staking and DAO concepts are great for encouraging users to hold the native token of the game and help it expand faster. It can become the first choice for blockchain game lovers who are looking for an entertaining and rewarding experience.